Back
An Entrepreneurial Spirit and a Giving Heart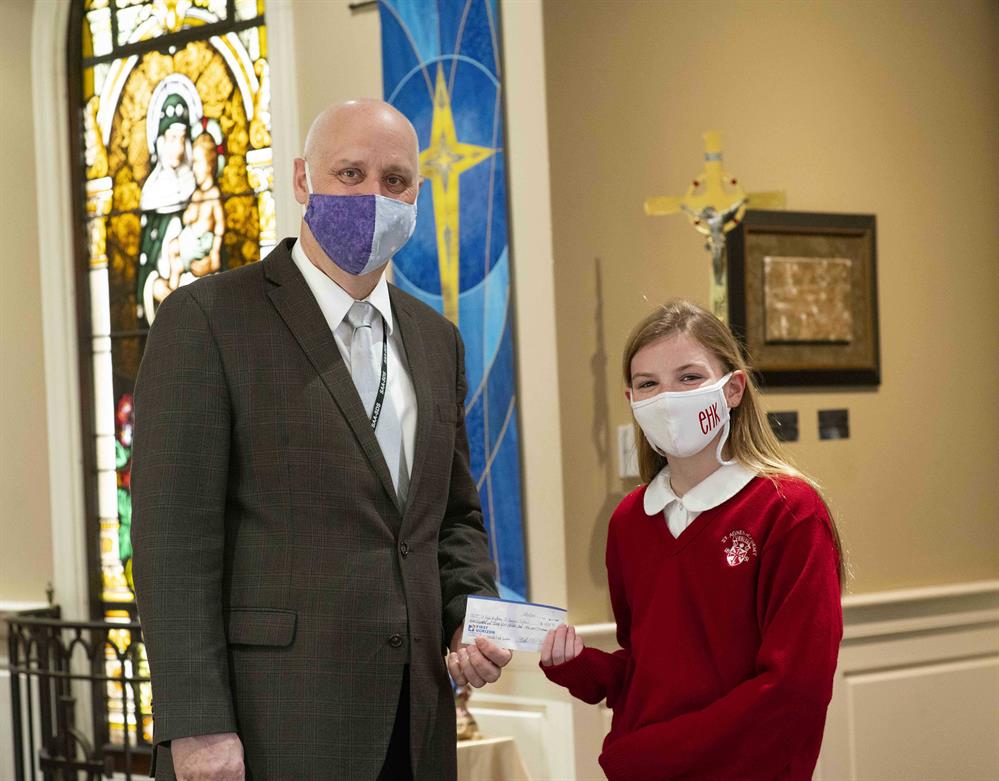 St. Agnes Academy 6th grader Evie Hines turned a disappointment caused by COVID-19 into a personal project that benefitted her fellow students and the entire SAA-SDS community.
According to her mother Leslie, this project began last spring when Evie and her class were unable to attend Biztown, an annual Junior Achievement program where students run businesses in a simulated town. "Evie was incredibly upset that she was missing Biztown," said Mrs. Hines. "She thought and thought on what she could do, and the mask business came to life!"
Evie's mask business resulted in 617 masks being made for her fellow students-all of which she monogrammed and delivered herself.
Over the summer, Evie reached out to St. Agnes Dean Kathy Boccia to share her idea. "She did all of the research. She found a quality product, worked out the cost, the lead-time for delivery dates, the delivery process--she did everything. She showed real commitment to the project," said Dean Boccia.
Evie researched many different kinds of masks, searching for one that would fit well (Hers was always falling off!) and would be comfortable for the students to wear at school. "I finally found one that was adjustable and had straps so you wouldn't lose it when you took it off. It also came in two sizes so people could choose," said Evie. She decided to monogram the masks, and she even learned how to use her mother's machine so that she would be able to do it herself.
Evie's mask project resulted in a donation of $925.50 to the School's Annual Fund drive, which she delivered to President Tom Hood before the holidays. Additionally, she is making a donation to SPLASH Memphis, an organization that teaches underprivileged you how to swim. Evie has a passion for swimming, and has been swimming competitively for eight years with Memphis Tiger YMCA swim team.
Evie's 6th grade teacher Kelly Healy described her as a natural leader and a self-starter. "I am not surprised at all that she attempted a project so big and so challenging. She shows a strong work ethic in everything that she does," Mrs. Healy said.
Evie's classmates say that the monogrammed masks are comfortable and that they are impressed with how much time she spent making them, while also juggling sports practices and homework. Evie learned many invaluable skills, helped other students, and gave back to the School. We cannot wait to see what the future holds for this amazing young lady!