Back
Seniors Inducted Into National Honor Society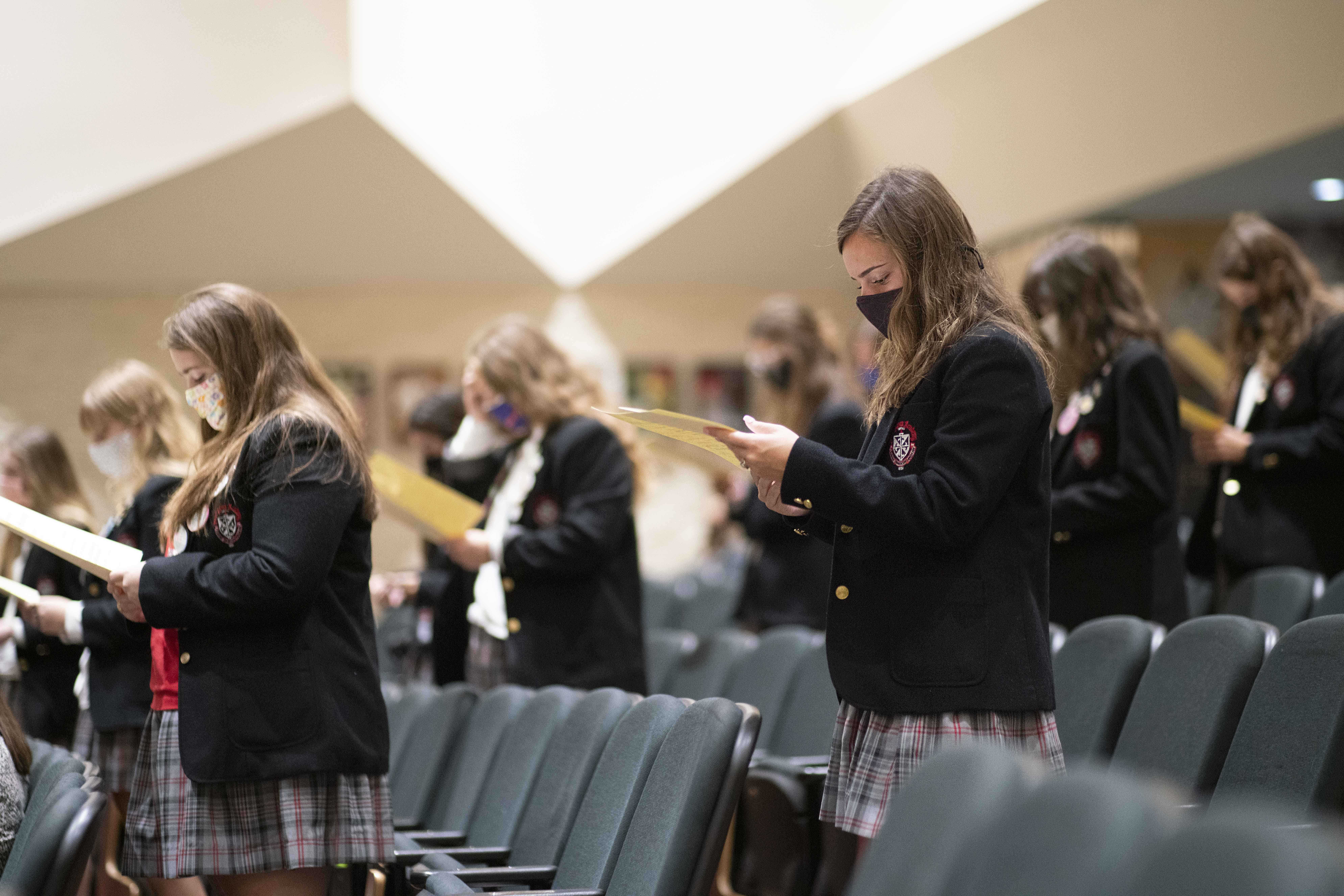 Fifty-three members of the St. Agnes Academy Class of 2021 were inducted into the Aquinas Chapter of the National Honor Society during a ceremony held on September 30.
Seniors are selected for inclusion in the Honor Society based upon their academic merit and their demonstrated leadership, character, and commitment to service. To be eligible students must have earned a 3.67 or higher cumulative G.P.A. over six semesters at St. Agnes Academy.
During the ceremony the students recited the following pledge: I pledge myself always to seek the light of truth, to hold scholarly habits, to engage in worthy service, and to lead forward in all things.
Congratulations to the newest members of the St. Agnes Academy National Honor Society:
Mary Hunter Adair, Ella Almand, Emily Arangino, Embry Bird, Nicole Cambron, Chloe Carlock, Lily Clark, Ella Coffey, Sydney Collard, Julia Comes, Della Cox, Eve Davis, Emily Easley, Maggie Esnard, Katie Farm, Abby Fogerty, Mae Forsdick, Kennedy Glatzer, Evie Grace Goode, Grace Gossett, Anna Henson, Bailey Johnson, Brooke Johnson, Sara Khouzam, Anna Catherine LaBarreare, Kyla Langston, Amelia Madden, Olivia Manes, Mary Grace McAuley, Sarah McFadden, Anna McLaughlin, Caroline McNiell, Kaitlin Moore, Gretchen Nunnelee, Rosemary Ostner, Karis Pepke, Meri Alan Petro, Elizabeth Podraza, Abby Ray, Olivia Rouse, Molly Rump, Jorja Samsel, Liv Shallow, Mary Virginia Smith, Emma Stark, Lauren Stephens, Georgia Thompson, Yesenia Villa, Maggie Walker, Rachel Ward, Celia Watson, Olivia Wiegert, and Sarah Wray.