Back
David Martin, SDS Class of 2017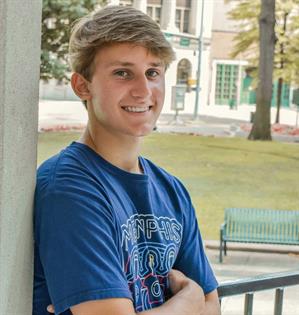 How many years did you attend St. Dominic School?
I attended St. Dominic School for 11 years, PK-8th grade.
How did your years at St. Dominic prepare you for high school?
I felt very prepared entering my freshman year of high school. The education and experience at St. Dominic readied me for the workload and social atmosphere at Christian Brothers. After 11 years of challenging academics, I was ready to tackle freshman geometry and lengthy English papers. My time management skills were well developed, so balancing high school and extracurricular activities came easily.
Describe the Junior High experience at St. Dominic . . .
My junior high years at St. Dominic hold a special place in my heart. With a small co-ed class, I formed bonds with all of my classmates and teachers. To me, the teachers at St. Dominic made the difference. They were incredible at their job, in addition to being supportive, captivating, and inspiring.
What was your favorite class at St. Dominic and why?
My favorite class at St. Dominic was 7th grade US History. Although it was a lot of facts, our teacher used stories to teach the necessary information while creating an exciting environment.
Do you have a favorite memory from St. Dominic?
My favorite memory from St. Dominic was The Outsiders project done in 8th grade English class. Our task was to create trailers for the novel, and we shot scenes all over campus. Everyone pitched in to bring clothing and hair products in order to make the best trailers possible!
What activities are you involved in at CBHS?
I am a De La Salle Scholar, Student Ambassador, and member of the Varsity Soccer Team. I am involved in the Brothers Leadership Council, Honor Council, Inclusivity Panel, and Ping Pong Club.
What are your plans for college? Do you know what you want to study?
I am committed to play soccer at the University of Chicago, and I plan to study Economics.
What are your interests outside of school? Are you involved in any volunteer work?
Outside of school, I play club soccer for Lobos Rush, take part in SEARCH (Catholic Retreat for Teens), and volunteer at Madonna Learning Center every summer.
What would you tell someone who is interested in attending St. Dominic School?
For someone considering St. Dominic (and I am biased!), I would tell him that there is no better place to learn and grow as a young man. When I completed my years there, I felt confident and ready to jump into high school. As a result, I have thoroughly enjoyed my time at Christian Brothers and am preparing for the next step. Just as I am a brother for life, I will always be a sun!