Back
Dr. Pattie Simone, '78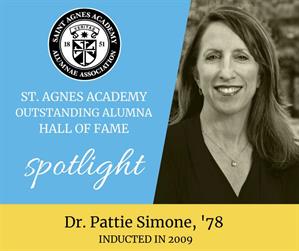 Patricia M. Simone is the Director of the Division of Scientific Education and Professional Development at the Centers for Disease Control and Prevention where she leads public health training and education programs, strengthening the public health workforce—from training the current workforce, to offering in-depth, on-the-job fellowships (such as the Epidemic Intelligence Service for training "disease detectives"), to attracting young people to the field of public health.
Dr. Simone received her B.S. from Stanford University and her medical degree from the University of Tennessee in Memphis. She completed her residency at Vanderbilt University and infectious disease fellowship at the University of Colorado and the National Jewish Center for Immunology and Respiratory Medicine with a focus on tuberculosis and multi-drug resistant tuberculosis. She joined CDC in 1992 in the Division of Tuberculosis Elimination, later serving as the Chief of the Field Services Branch. She has also held CDC positions as the Chief of the Prevention Support Office in the Office of the Director, National Center for HIV, STD, and TB Prevention; Associate Director for Science, Division of Global Migration and Quarantine during the response to SARS; and Associate Director for Program Development, Division of Healthcare Quality Promotion. From 2005-2010, she was the Director of the Division of Public Health Systems and Workforce Development, providing leadership in building Ministry of Health capacity internationally through the Field Epidemiology Training Program (FETP) and the Sustainable Management Development Program (SMDP). Dr. Simone served as Principal Deputy Director of the CDC Center for Global Health (CGH) from 2010-2013. In 2013, Dr. Simone retired as a Captain from the U.S. Public Health Service Commissioned Corps.
Dr. Simone was inducted into the St. Agnes Academy Hall of Fame in 2009. In recent light of the global pandemic, Dr. Simone has stated, "I hope that one outcome of the pandemic will be that more young people choose careers in public health."