Back
Jo Ann Harmeier Gilbert, Class of 1978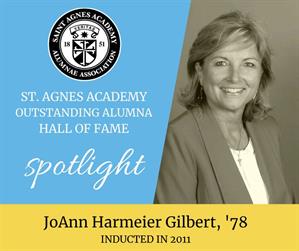 Jo feels her life has been blessed working with children and adults with special needs. She began her career in 1982 as a student teacher at Madonna Day School where she not only fell in love with teaching, but found she was passionate about wanting to make a difference in the lives of persons with special needs. She was no stranger to persons with a disability as she grew up with a brother with Down syndrome.
During high school and college, Jo dedicated her summers to providing summer camp experiences for children and adults with intellectual disabilities through TN ARC (MARC at that time). Residential camp provided opportunities for the campers to experience fun activities, become more independent and build lifelong friendships. She also saw the benefits for siblings to have "alone time" with their parents during the week(s) of camp.
Jo attended the University of Memphis and received her Master's degree in Education. After completing her student teaching at Madonna, Jo explored serving students in the Memphis City Schools where she taught for 3 years at Grandview Heights Elementary. In 1985 she married Blair Gilbert as well as embarked on a new teaching adventure. Sister Mary Mark from Madonna Day School started a new program at Bishop Byrne High School called PAVE (Program for Academic and Vocational Education) for her Madonna graduates. This was a new concept for the Catholic Diocese and with the support and love for Madonna from the faculty and students of Bishop Byrne, the program flourished. Jo recalls the proud moment when the Madonna students were Juniors and received letter jackets from the Booster Club for their participation in multiple sports in Special Olympics. Jo's homelife also flourished, having two sons and a third child on the way. She made the decision to take a break from full time teaching to raise her children but continued to stay involved with the special needs' community, serving as President of the Executive Committee for Special Olympics. During this time, she also served as President of the St Agnes Academy Alumni Association. While working for Special Olympics, she helped to raise over $300,000 on their golf tournaments in partnership with Seessel's grocery. Jo's career path then brought her to the Harwood Center, working part time as an early intervention specialist. Jo recalls "It was rewarding, but also difficult counseling new mothers of children with special needs. Their fear and uncertainty on what to do and where to go was real. They needed the comfort of knowing there were people and resources to help them navigate through this uncharted territory".
For the next eight years, Jo continued serving young children in their homes and in a preschool setting for The Harwood Center. She then opened an inclusive pre-school class at Hope Church in Cordova. With her now "four" children all in school, she decided to work full time for the Shelby County Schools at Dogwood Elementary, where she was an inclusion specialist, and later at Collierville Elementary where she served in several teaching roles. While at Collierville, she helped raise funds to install an inclusive handicap accessible playground and sensory integration room. In 2008, she earned the SCS Teacher of the Year and Pilot Club International Educator of the Year awards.
In 2012, the opportunity became available to serve as the Executive Director of Madonna Learning Center. This was an exciting and unique chance to not only return to where her career began, but to fulfill her passion and make dreams come true for students with special needs. One of Jo's first tasks was to lead a $10M capital campaign which encompassed a total renovation and expansion of the school. With the guidance of a fantastic Board of Directors, and the love and support of the community, the funds were raised, and the project was completed in one year! The campus moved off-site to Hope Church in Cordova and in 2015, the school reopened to a double sized campus with a new gym and beautiful classrooms. Today, Madonna continues to grow and expand its services for persons with special needs.
Jo is committed to her passion and is always looking ahead at new possibilities to enhance and improve the lives of children and young adults with disabilities. Faith and conviction drive her. She says, "God continues to bless this community with faithful friends, families and civic leaders that support the mission of building a brighter future for persons with special needs. She thanks St. Agnes for instilling in her the power to fulfill dreams, make changes in the community for good and to be thankful for those who lift you up along the way".
Her fondest memories of SAA were spirit week. "It was a great time where friendships grew closer and bonds were created that would last for many years. Her favorite quote from SAA days was, "Don't Sell Yourself Short", Sr. Agnes Ricardo. It reminded her to never underestimate what you can accomplish in this world. Take a leap of faith, trust God, let go of fears, surround yourself with those who believe in your mission and make a change for others! Blessings will abound!"