Back
Students Recognized Who Exemplify the Four Pillars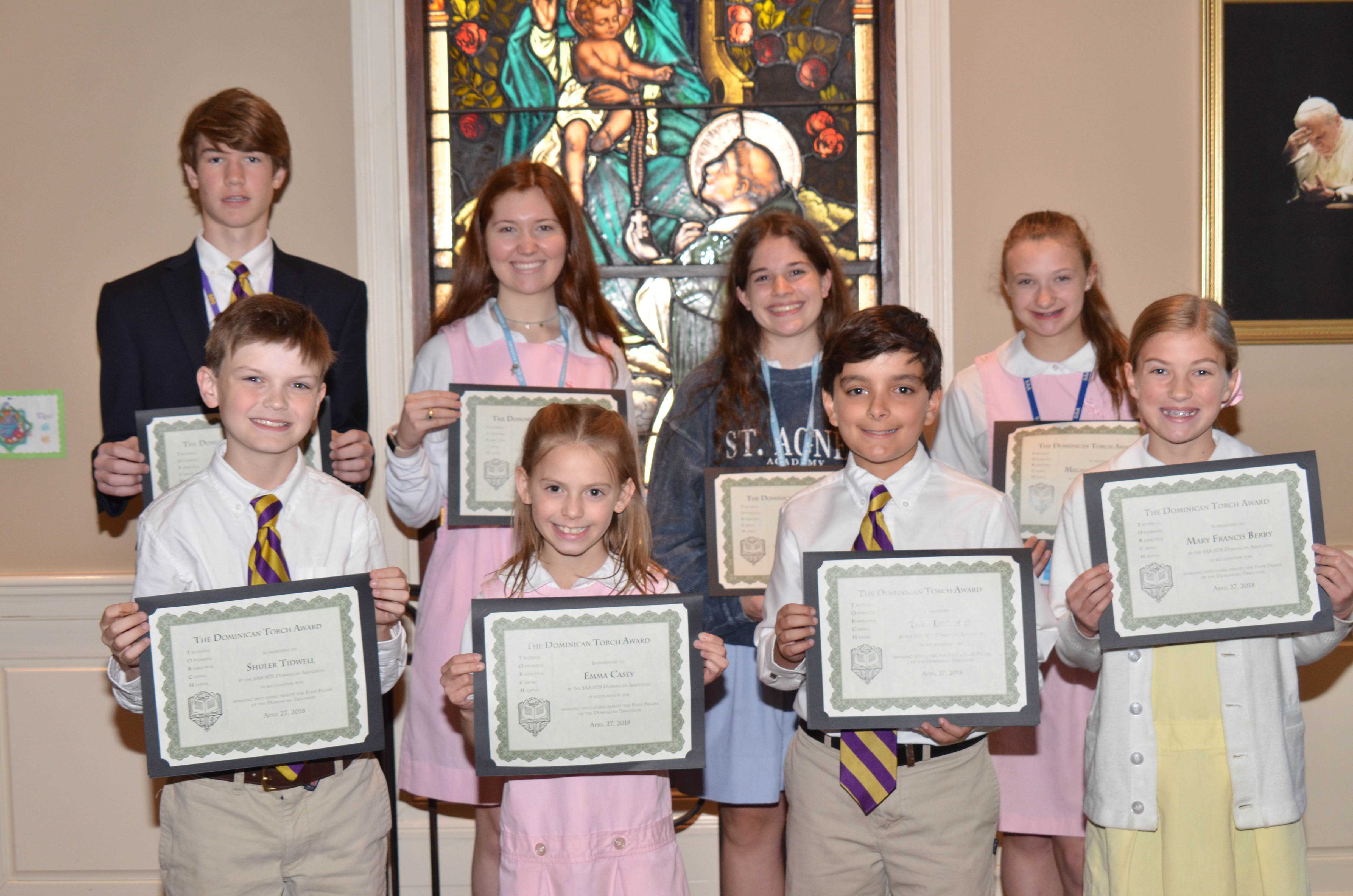 St. Agnes Academy-St. Dominic School honors students with the presentation of the Dominican Torch Award, which recognizes those students who exhibit, by their example, the four pillars of the Dominican charism: Prayer, Study, Community and Service. Students are nominated for this honor by their classmates and teachers, and the awards are presented twice a year.
Below are excerpts from the nominations, which were submitted by classmates and teachers:
Emma Casey: "I think Emma is a good example to others because she is joyful, helpful, truthful and responsible."
Shuler Tidwell: "I nominate Shuler because he is very kind and respectful. He is honest and helpful whenever anyone is in need. He even has good handwriting!!
Mary Frances Berry: "When I look to see what Mary Frances is doing on her computer, she is always on Quizlet, studying for a test. She also reads lots of books. She can put a smile on your face in 5 seconds! Mary Frances follows the Justice, Respect and Peace rules. She has a positive attitude and always tried to help people."
Luke Lucchesi: "I nominate Luke because he always has a smile on his face. He never argues with people and isn't afraid to speak up and defend people when someone is picking on them."
Megan Norsworthy: "She goes out of her way to be kind and helpful. Megan works hard to learn and succeed. She is a quiet, reflective person who is focused on God. Her calm spirit eases the stress and worries of those around her."
Jack McLaughlin: "Jack represents the 4 Pillars to the world. He is the go-to person when someone needs help. He is like a brother to everyone."
Melody Green: "She always greets you with a smile and is so positive. Her enthusiastic outlook is refreshing to anyone that is around her."
Kendall Stallings: "Kendall is a beautiful model of graceful leadership. Her confidence and talents are laced with humility. She is a team player who is more concerned with success of the project than accolades for herself."