Back
Arts
Whether students are interested in mastering three-part harmony, printmaking, or theater props, the Dominican Community of Schools offers a wide array of artistic outlets, including theater productions, vocal and instrumental groups, visual art classes, creative-minded school publications, and technical crews. Our vibrant fine arts program celebrates personal expression and connects our students to history, diverse cultures, and their own imagination.
Facilities
The Sally Wallace Hook Theatre, located in Siena Hall, is an intimate 300-seat performing arts venue with state-of-the-art sound, lighting and acoustic systems. The theatre is constantly buzzing with classroom activity, school theatrical and musical performances, lecture series, and workshops. The theatre is equipped for multi-media presentations and includes an LCD projector in the rear-of-house control booth, a retractable screen and data ports for hyper studio and other presentations as well as theatre storage facility. In addition to hosting numerous school productions, the theatre also provides a venue for the community to use for special events
Our campus houses two music studios and three art studios devoted to encouraging students to develop their talents. Creativity flourishes as students develop confidence and embrace expression
Rebecca Winchester, Class of '18
Visual Arts
Our visual arts program develops our students' talents and abilities at all levels. While they learn the fundamentals of art, explore the principles of design, and study the history of art, our visual artists learn to express themselves creatively. Student artwork is routinely entered in various local and regional art competitions and exhibited and celebrated throughout the school on an ongoing basis. When they're not in the studio, our student artists access local museums, attend lectures, and tour museums worldwide via our Distance Learning Center.
Calliope
Every year the Upper School students publish Calliope, a national award-winning magazine that combines creative literature, skilled artwork, and defining photography. The publication is a means of expression for the students of St. Agnes Academy, allowing them to reveal their passions and talents and have their works published and read by a wide audience. The 2021 issue of Calliope received a Silver Crown Award from the Columbia Scholastic Press Association in addition to several Gold Crown Awards for individual achievement.
Music
Comprehensive music instruction begins in our Early Childhood Center and continues all the way through the Upper School, where our student musicians participate and receive awards in state, regional, and national competitions. Throughout the school our students are provided numerous opportunities to explore and develop their musical talents and cultivate their musical skills. Concerts and performances at every level help create a sense of community. Students earn recognition in the prestigious Tennessee All West Orchestra and Choir.
In the Lower School, students participate in the St. Dominic Boychoir, Starbursts, Handbell Choir, Liturgical Choir and String Ensemble. Our students regularly share their musical gifts at Mass, school assemblies, and various community events. The Lower school curriculum includes Orff Music instruction and World Music Drumming.
Ladies First is an Upper School audition vocal group that specializes in A capella singing, performing everything from classical Jazz to modern pop. Ladies First challenges each singer to be her individual very best and to work together as a group to create harmony that keeps the invitations coming from The Memphis Redbirds, The East Memphis Kiwanis Club, The Josephine Circle, and many more.
Starlettes is an Upper School vocal group that performs music of many different genres and styles. Performance opportunities include concerts throughout the year, as well as performances for special functions on campus, including school Masses and various dedications to honor patrons and alumni.
Drama
When the curtain goes up opening night at a St. Agnes and St. Dominic production— whether for a musical or a drama—the stage lights reflect on the extraordinary efforts of each student. Theater at St. Agnes and St. Dominic is a community-building experience that allows our many talented students to find their role within the broader context of theater. Students design and sew costumes, build and paint the sets, serve as stage managers and student directors, shine in the spotlight, perform and even write, bringing productions to life.
Drama begins in our Early Childhood Center and continues all the way through Upper School. Our younger students perform in grade-level class plays and enjoy productions through our ECC Live! Program, which brings the arts to campus through special in-school field trips. Our lower school, jr. high and upper school students produce separate full-scale productions and musicals, as well as compete in area competitions. Every year our performers earn numerous nominations and awards in the Orpheum High School Musical Theatre Awards program.
Our Upper School Theatre Department takes the show on the road several times each year for the "Spread the Love Tour." Students board a bus and take the music and the soul of this theatre to the community, to people who cannot get to us, visiting nursing homes, and schools in some of the struggling areas of the city.
Calliope
Calliope is a national award-winning literary magazine published entirely by our High School students.
View our award-winning magazines on
Issuu.com
via the links below.
Video from St. Agnes Academy Vocal Music - Pure Imagination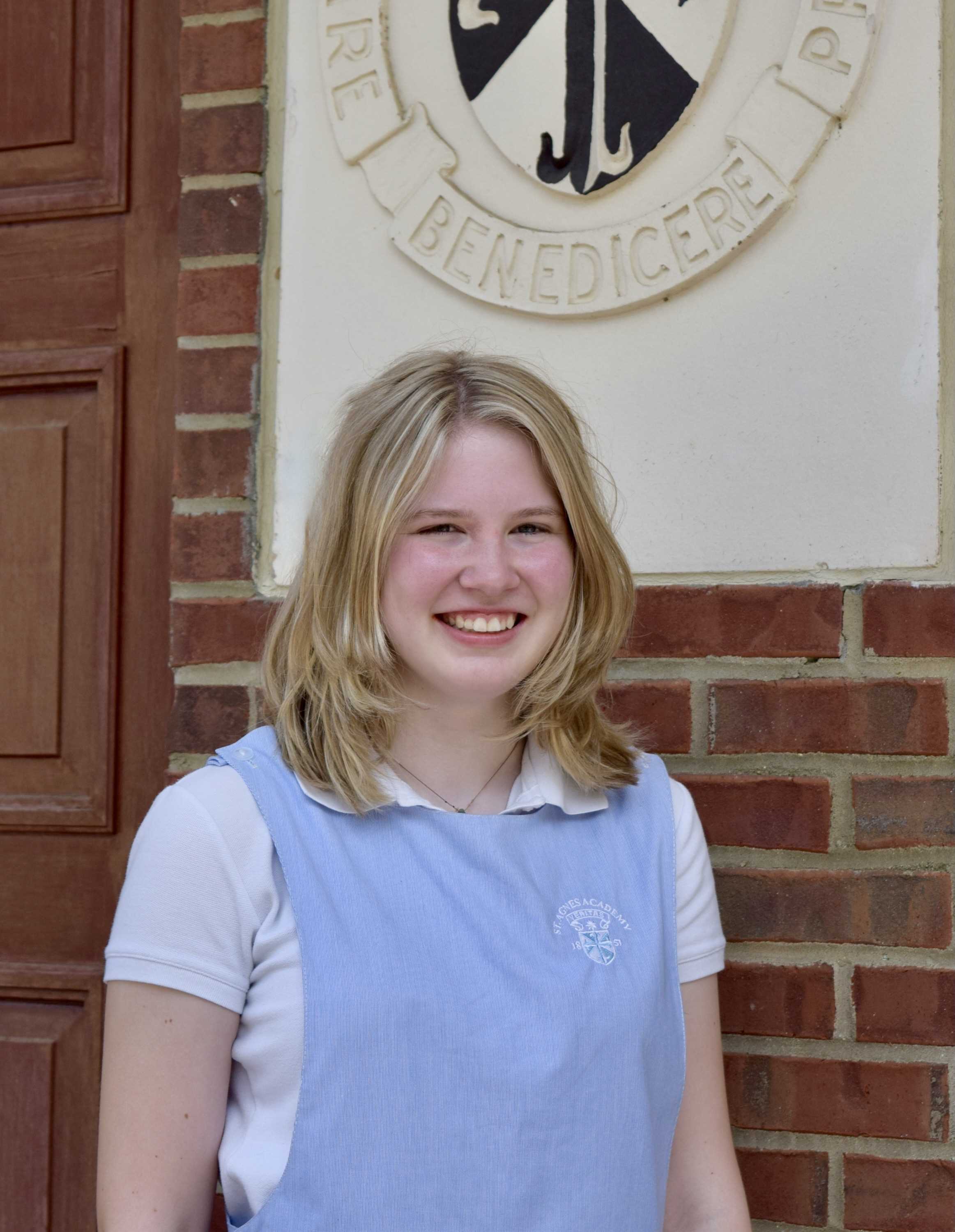 Editor-in-Chief of Calliope, Ladies First, Theatre, Field Day Coordinator, Model UN, Youth in Government
Read More