Back
Kelly Mungle, SAA '97, SDS Kindergarten Teacher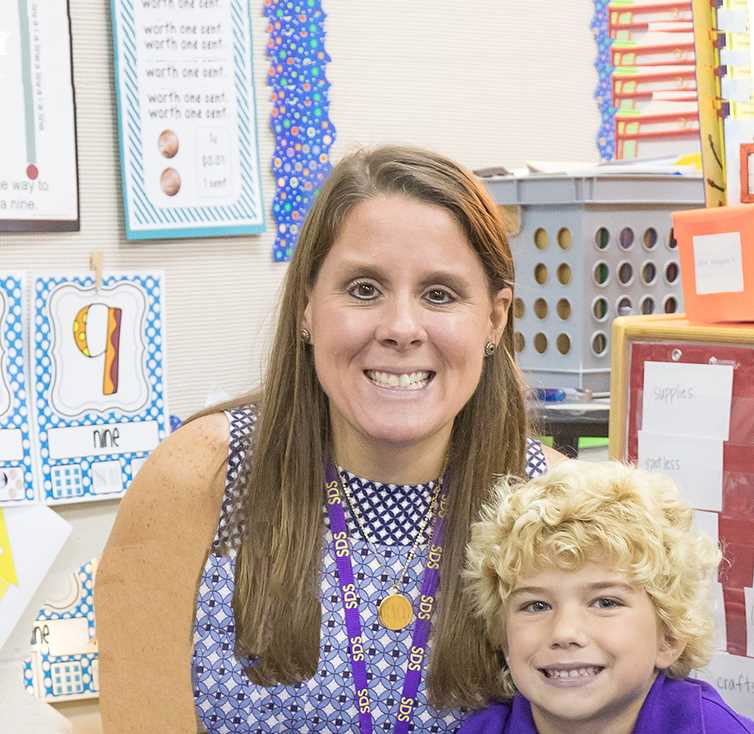 St. Dominic School Kindergarten Teacher, member of the Faith Formation team and the recipient of the St. John Bosco Award for the Total Christian Formation of Students.
What do you enjoy about teaching at St. Agnes-St. Dominic?
I love teaching where I grew up; it is my home away from home! This is a unique place, where the teachers are trusted and allowed to meet the needs of all students. The teachers and students feel as though they can make a difference every day. I can encourage my students to push past what is comfortable to reach a higher expectation or goal. I love the friends I work with every day, enjoy sharing ideas and discovering new and exciting ways to teach our students.
Why did you want to become a teacher?
Ever since I can remember, I always wanted to be a teacher! My love for children and the opportunity to prepare, nurture and encourage them is why I chose this profession. I love being able to make a difference each day I come to work.
What do you hope to accomplish as an educator?
I hope my students learn how to fail and succeed, how to treat others and help others, and always to try and go above and beyond the expectation. I want them to leave knowing that practice makes everything permanent. I want my students to love learning!
What are some of the ways you bring lessons to life?
I believe in giving the students a hands-on experience in the classroom. When the students are engaged and acting out the learning, they gain a better understanding of the material. It allows students to experiment with trial and error and learn from their mistakes. I love to teach my students critical skills through play and experience. It gives me the opportunity to enrich the minds of the students in new and engaging ways. They love to learn when it is fun and involves a challenge.
What are the benefits of the all-boy classroom experience?
The all-boy classroom allows me to focus on boys' needs exclusively and to offer an engaging curriculum specifically developed for the ways boys think and learn.
Boys enjoy different kinds of activities, grow at a different pace, and have different subject interests. My approach to teaching and learning is tailored to how boys learn, giving them options and the freedom to explore in a safe school environment. I can customize all my lessons and topics to get the boys excited about learning and offer a hands-on experience that builds upon their natural curiosity.
How do the Dominican Pillars of Study, Prayer, Community, and Service inspire life at the Dominican Community of Schools?
The Dominican Pillars provide the teachers and students with a foundation and give us the support to grow and learn by Godlove and his teachings. It connects us and grounds us to lead our lives by the Gospel. I incorporate the four pillars across all curricula and academic lessons I teach in my classroom. Being a Kindergarten teacher, I get to introduce the four pillars and show the boys how the pillars strengthen our relationship with God, his love, and our love for others.
Why did you choose to send your daughters to St. Agnes?
I am so lucky to now continue my St. Agnes journey as a teacher and parent. I chose to send my daughters to St. Agnes so they would grow and learn with nurturing, dedicated teachers. I know St. Agnes has a competitive, high-achieving, educational and spiritual environment. The teachers at St Agnes will help them establish a strong sense of self-confidence and give them the tools they will need in the future. I love watching them take part in some of the same incredible experiences I had as a St. Agnes student.
Favorite Authors?
My favorite authors are Eric Carle, Dr. Seuss, Margaret Wise Brown, Mo Willems, and Judy Blume