Back
Our Dominican Community
Two schools.One Community.
At Memphis' Dominican Community of Schools, we have long been committed to creating an environment where every student feels the love and confidence that fuels achievement and success. This is central to our powerful and unique model of two schools in one community.
We are two schools.
The verdict is in on single-gender education, and there is little doubt that boys-only and girls-only classrooms can unlock potential and achievement in ways that co-ed instruction just cannot. Boys and girls learn differently, behave differently, and are developing emotionally in very different ways. Our two single-gender schools St. Agnes Academy, designed just for girls, and St. Dominic School, created just for boys are proof of what is possible in an environment that takes these differences into account.
And because we have two single-gender schools, we have the unique ability to bring boys and girls together when it can help them develop. Co-ed opportunities including our extraordinary junior-high experience are something that you just won't find at other single-gender schools.
We are one community.
The Dominican Community of Schools is more than a campus we are a community. While we maintain two schools to drive academic development, we are above all united and defined by a common purpose.
In the Dominican tradition, the Dominican Community of Schools pushes beyond academic excellence to promote spiritual and moral growth, social and ecological responsibility, leadership skills, multicultural awareness, emotional maturity, artistic expression, and physical fitness.
In the Dominican Community of Schools, our expectations and values are born of our Catholic faith, and they permeate every chapel, classroom, sports field, or art studio.
In the Dominican Community of Schools, we cherish one another as children of God and live daily lives of respect, support, and kindness.
Here we teach in two separate schools but we live in a single community of principle and purpose, where everyone belongs.
Learn More About St. Agnes Academy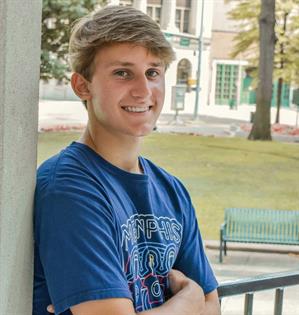 There is no better place than St. Dominic to learn and grow as a young man. When I completed my years there, I felt confident and ready to jump into high school.
Read More