Back
Even Our Youngest Stars and Suns Can Serve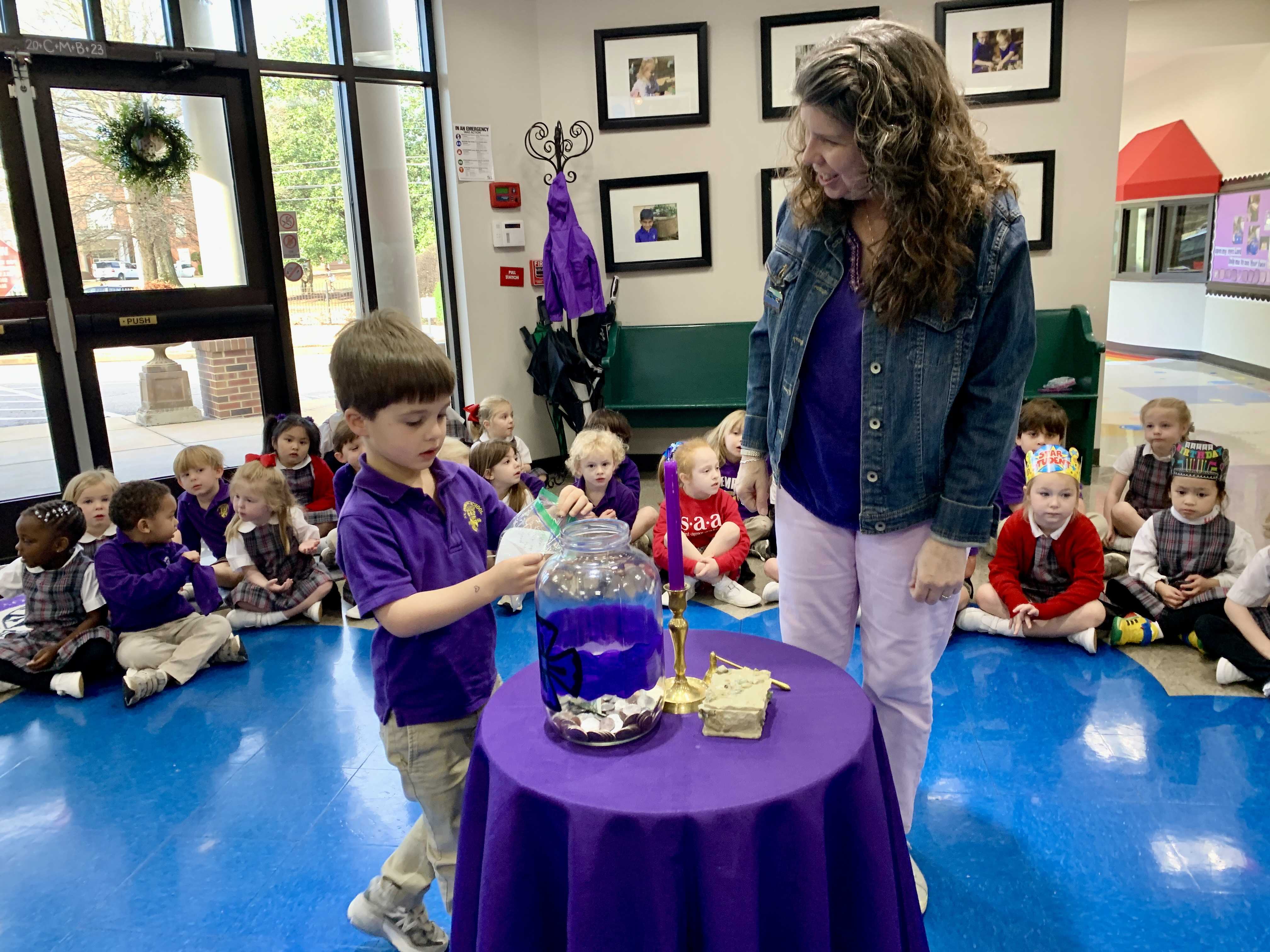 Throughout the season of Lent, our students in the Early Childhood Center are learning about good deeds and good choices, and at the same time, learning to give back to others.
The PK2-JK students participate in service by doing good deeds at home for which they earn quarters. The children bring the quarters they have earned and place them in the collection jar during their weekly community prayer gatherings. They are excited to watch the collection grow as the weeks bring us closer to Easter.
Loretta Martin, Catechesis of the Good Shepard Coordinator, explained "Our young children understand that there are people in need of basic necessities-food, clothing, shelter. They are eager to be generous and active participants, helping others, and giving of themselves to help the Kingdom of God grow.
As they began their collection the first morning, they recalled the parable of the mustard seed that they recently heard during Atrium time. They learned that while they start with just a few quarters, the money will grow until it fills the jar, just as the mustard plant begins as the smallest of seeds yet it becomes a tree so large that the birds can make their homes in it.
When we finally reach our celebration of Easter, the students' collection will be donated to the Manna House. Located on Jefferson Avenue, Manna House is a place of hospitality in the Catholic worker tradition, providing showers, clothing, coffee, and a sanctuary for poor and homeless persons.
Pre-Kindergarten teacher Kathi Davidson further explained this annual Lenten activity: "We are trying to teach them that the small things you do really matter to others. They bring in quarters for things like taking care of their new puppy, using kind words, cleaning up toys without being told, and playing nicely with little sister."
In addition to the ECC Lenten project, our other Stars and Suns also have dedicated almsgiving recipients for Lent. Our Lower School students are participating in the Catholic Relief Services Rice Bowl collection, helping our sisters and brothers across the globe overcome hardships like hunger and malnutrition. Our Upper School has now supported both the Child Fund and Unbound charities for over 25 years. Each class has an adopted child for whom they raise money during Lent.
Though our school prioritizes service to others throughout the year, Lent is a special time when our entire campus comes together in support of those less fortunate. In ways both big and small, our students are making Christ visible to others and are making our world a better place.