Back
Shining a Light on . . . Michelle (McEachron) Wolfinger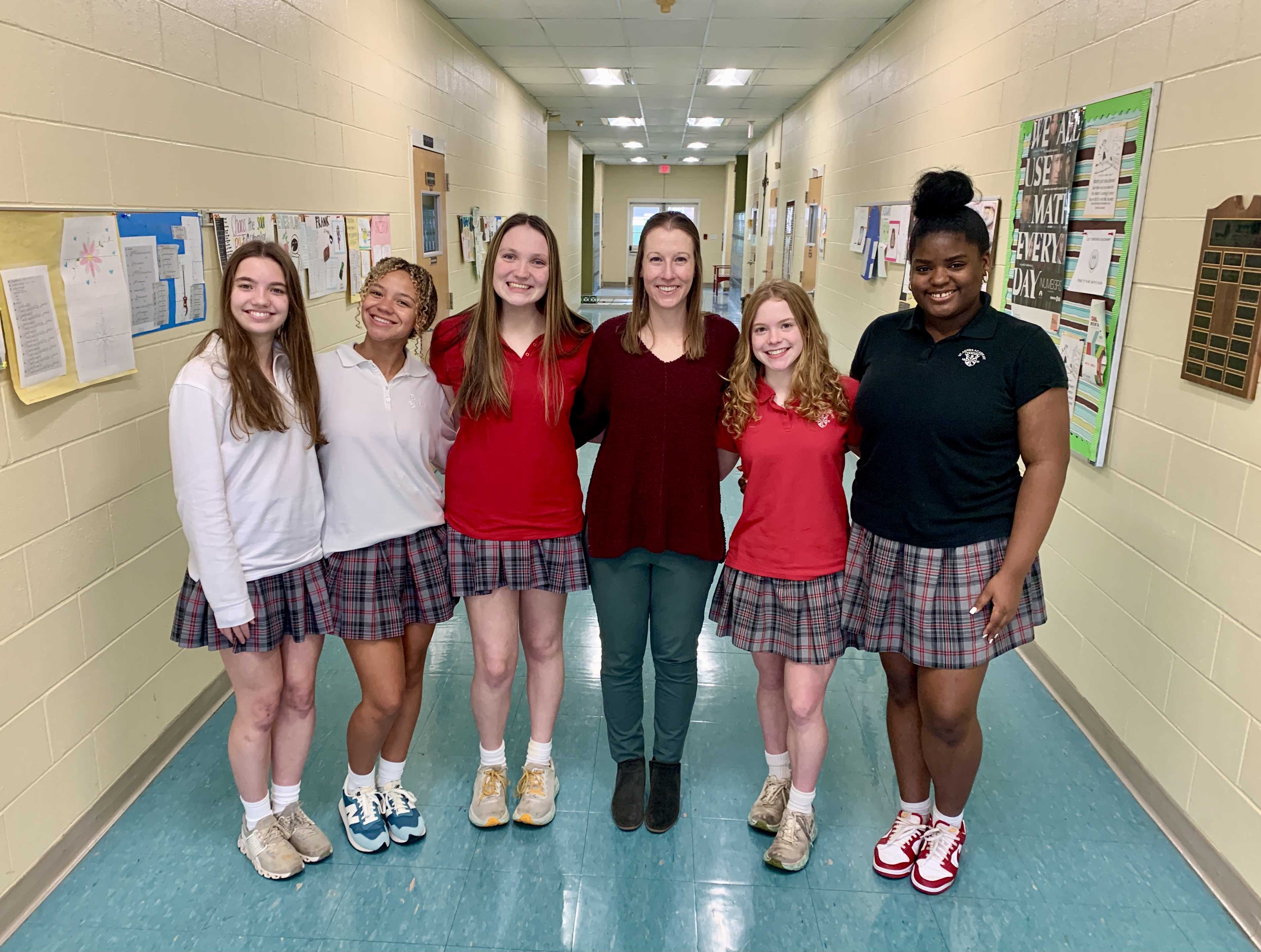 Highly respected by her colleagues and her students, Michelle (McEachron) Wolfinger has been an SAA Upper School educator for 7 years and is Co-Chair of the Math Department. She is a collaborative and innovative teacher, bringing life to the often-challenging subject of Mathematics. Take a minute to read a little more about her goals as a teacher for herself and her students.
What is your educational background?
I have a BA in Mathematics and an MA in Teaching, both from Christian Brothers University.
Why did you want to become an educator?
Growing up, I always loved school, and I especially loved math. My dad was a math teacher for over 30 years. Seeing his joy for teaching and commitment to his students inspired me to become an educator.
How would you describe your role here at SAA-SDS?
My role at St. Agnes is to positively contribute to a community of students and educators. To me that means creating an environment where students feel engaged, cared for, and confident. I want my students to know that they are valued and loved just the way they are.
What do you hope to accomplish in your job?
I hope to encourage a passion for learning that extends beyond high school and college. I hope to inspire students to be curious, to ask questions, and to explore concepts in their own way.
What do you enjoy most about your job/what are your favorite parts of your job?
My favorite part of being an educator is working with young people. The students I work with are so bright and energetic. It makes me happy to be their teacher. I also definitely enjoy math, so doing math problems every day is a perk!
Are there any things you are working on right now that you are particularly excited about?
I am always eager to learn, collaborate, and try new things. Over the summer, I was able to travel to Boston to attend the International Coalition of Girls' Schools annual conference. It was wonderful! I learned strategies to encourage risk taking and problem solving, and I participated in conversations about grading and growth. I am trying to implement these concepts in my classes each day.
What are you most excited about with the construction of the new Math & Science Building?
The Math and Science Building is going to be amazing! I am most excited to see the collaborative learning spaces and the new state of the art science labs. It will be fun to explore new teaching strategies that will be enhanced by these fabulous spaces!
Which of the Dominican Pillars-Study, Prayer, Community, Service-is supported most by your role here, or which one impacts you the most/means the most to you?
Study is definitely important to me as a math educator, but Community is what makes my heart happy. I am so fortunate to work with educators and students who care for each other, support each other, are always ready to lend a helping hand, and build each other up.
What are you most grateful for?
I am most grateful for my friends and family.
What are your interests outside of the classroom?
Outside of the classroom, I like to travel, hike, and be outside. I enjoy going home to San Diego, game nights with friends, and couch time with a good book.