Back
Shining a Light on . . . Kristin Jayroe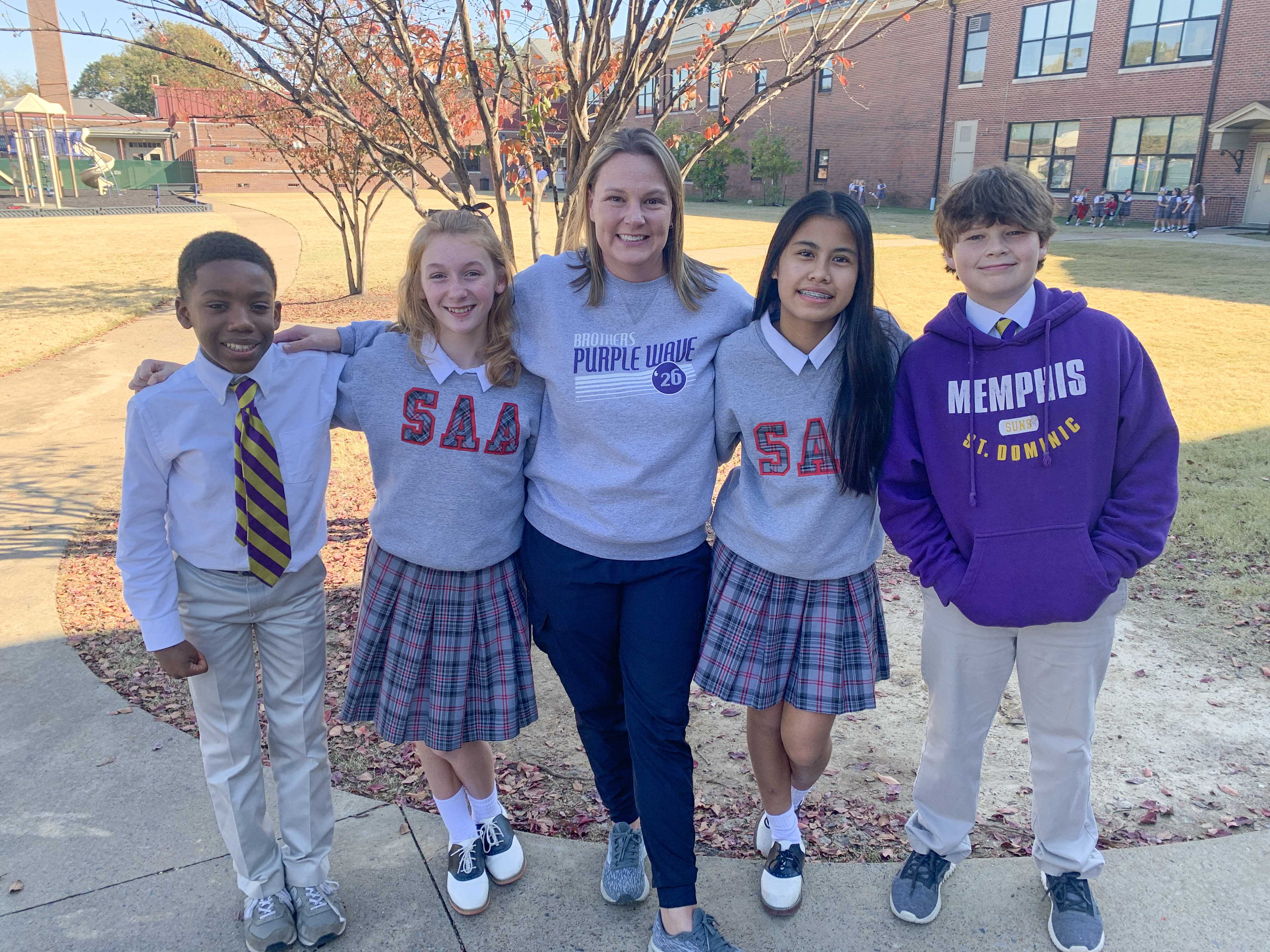 A teacher for 18 years, Kristin Jayroe joined the SAA-SDS community during the wild ride of the 2019-2020 school year. She is our 7th/8th grade Spanish I/II teacher, and her easy-going spirit is perfect for the unpredictable world of teaching preteens. She is the mother of two sons, current SDS Sun Jackson ('27) and alum Connor ('22) now a freshman at CBHS. Take a few minutes to get to know a little bit more about Mrs. Jayroe!
What is your educational background?
I have a B.A. in Computer Science, a B.S. in Spanish Education, and a M.A. in Educational Leadership.
Why did you want to become an educator?
I worked for almost a year out of college for a computer software company updating databases for water departments and realized how much I enjoyed Spanish-and how little I enjoyed programming! I had a great Spanish teacher in high school that inspired me to want to be in the classroom and to share my love of the Spanish language and cultures.
What is it like to teach junior high students all day?
Every day is different; however, you can always count on junior high students to say and do the funniest things! There is never a dull moment.
What makes the junior high experience at SAA-SDS so special?
My team and all my co-workers are amazing, and I love everything about the SAA-SDS environment. God, love, and education--what is not to love?! Teaching is truly a passion of mine, and I consider myself fortunate to work with some great people and smart kiddos.
So, you joined us for the 19-20 school year. That was a challenging year to start! What did you learn about the SAA-SDS community during the pandemic?
The faculty all rallied, and we just kept moving along with our curriculum. We even did some really cool stuff while holding classes on Zoom. We would normally read 4 novels during the school year, and that year we completed 5! The students were great, easy-going and were happy to see their friends online each day. We had breakout rooms in Spanish that were filled with the target language and fun PQA (personal questions & answers). It was an effective way to enhance their conversational Spanish.
Why is it so important for our students to learn foreign languages and learn about other cultures?
Learning about different cultures helps us all to have an appreciation of our own blended and unique culture. After all, America is a melting pot of many cultures. I have taught long enough now to see where learning a new language has taken some of my former students. When I see them after graduation and learn that they are traveling abroad or have a job that allows them to communicate with others in Spanish, it makes me feel very proud. You just never know where learning a new language might take you!
What do you hope to accomplish in your job?
I want ALL of my students to have a new love and passion for learning a second language. I want them to gain an understanding of and appreciation for the many different cultures in the world.
What do you enjoy most about your job?
I get to do what I love every day!
Are there any projects you are working on right now that you are particularly excited about?
I like to stay busy and always be learning something new. Right now, I am studying American Sign Language, and I am participating in a workshop called Story Asking & Storytelling in the TPRS Language Classroom. It is a guided, online workshop to build my skills as a teacher, giving me the tools to increase students' listening, reading, writing, and speaking fluency through funny stories.
Outside of professional development, I am participating in a series called The Ruthless Elimination of Hurrywith John Mark Comer, and I am reading a devotional called Still by Michael W. Smith.
What is the most important life lesson you want students to learn?
I want my students to learn what my mother taught me as a child. She continues to remind me that I am responsible for my own happiness… not my parents, friends, spouse, etc… I want my students to know that the key to happiness is to be happy with yourself and be the best version of yourself-the version God meant you to be.
Which of the Pillars-Study, Prayer, Community, Service-is supported most by your role here, or which one impacts you the most?
Service! Service sounds like a lot and can sometimes be very overwhelming; however, I enjoy experiencing what it is to serve at SAA-SDS. I love our food drives, the Socktober project, our 9/11 Baskets, and even when we stock the local animal shelters. But my favorite type of service and what means the most to me is the service of LOVE. Honestly, it is a service that is simple and shows the hands and feet of Christ in every way. A simple smile, hug, word of encouragement or praying for someone impacts me and my life daily at home and in my classroom. I go to my job almost every day to work with intention and joy, spreading the love of Christ by having a positive attitude and a heart of gratefulness.
What are you most grateful for?
My family, health, friends, job, church, and freedom.
What are your interests outside of the classroom? What are you particularly passionate about?
I love being with my family whether it's attending a sporting event, going to the farm, chilling at home, going on a quick trip to NOLA to eat good food, or just watching a movie together by the fireplace. I also love to read in my spare time and work in the yard/garden. I am particularly passionate about raising money for St. Jude and about simplifying my life by getting rid of all the nonessential "stuff" that distracts me from being the person that God wants me to be.