Back
2019 Novel Coronavirus (COVID-19)
"But those who hope in the Lord will renew their strength. They will soar on wings like eagles;
they will run and not grow weary, they will walk and not be faint." -Isaiah 40:31
This page is intended to provide the SAA-SDS community with helpful information, resources and updates about COVID-19 and our school response. The situation is rapidly evolving and, as such, we will update this page frequently. Please take time to pray for the leaders of our school, our city, state and country, and especially for the members of the medical community as they make appropriate and timely decisions and work together in support of the safety and well being of all.
We are praying for all our school families at this time away from each other. If you want to share your prayer requests, fill out the form to the right. Your prayers and intentions will go to a prayer team staff member who will be praying on a daily and weekly basis.
There are simple things you can do to help keep yourself and others healthy.
• Wash your hands often with soap and water for at least 20 seconds, especially after blowing your nose, coughing, or sneezing; going to the bathroom; and before eating or preparing food.
• Avoid touching your eyes, nose, and mouth with unwashed hands.
• Stay home when you are sick.
• Cover your cough or sneeze with a tissue, then throw the tissue in the trash.
Correspondence from President Hood
May 15, 2020
In a normal year, we would be preparing feverishly for 100 Stars to graduate tomorrow as well as our eighth graders, 25 Suns, and 44 Stars, to graduate next week. And, our Junior and Senior Kindergarten students would be rehearsing for a ceremony celebrating their move up to the next grade. Sadly, the last nine weeks have been anything but normal. But, the next six days will be busy as we show our love for these graduates. Hopefully, it will fill their hearts, and our hearts too, with joy until we can gather together as a community to properly celebrate the Classes of 2020. Plans for these celebrations are being finalized, and we hope to share more details next week.
Planning for the Summer and Fall
As this year comes to a close, we continue to develop plans to start the '20-'21 school year in August, just twelve short weeks away. Our number one priority will always be the safety of our students, their families, and our staff. We will follow health precautions in accordance with local, state, and federal requirements. We have formed a COVID-19 task force comprised of representatives from all divisions of our school as well as medical experts. As we move forward in the planning process, it has become clear that we cannot eliminate the coronavirus nor the possibility that it may be transmitted. But, we are taking every precaution to minimize the likelihood that the virus hits our campus.
We want to protect our community while not losing what makes our St. Agnes Academy - St. Dominic School community so special. Much of the work we are doing is centered around how we can build and maintain relationships during this time of physical separation. It is driving us to make every effort to open the next school year on campus. Our students, and our faculty, are craving social contact. We know we can best meet these desires in person. So… we want to be connected yet safe. Right now, those two things are at odds with each other.
One of the challenges we face is the lack of guidance from any level of government. As we develop our plan for the fall, we are aware that we may be subject to yet unspecified government directives. We just received and are reviewing Interim CDC guidance on school procedures. The local Joint (Shelby county and the municipalities) COVID-19 Task Force Framework includes no specific guidance for schools (the line in the matrix is blank). Therefore, our planning is based on extrapolating guidance provided to other business and economic sectors. We will not be able to release final plans until we have specific parameters that the government will impose on schools. Having said that, we are working on multiple contingencies in anticipation of the rules that will be in place.
The diagram below outlines the way we will conduct decision-making in response to the different Shelby County phase levels.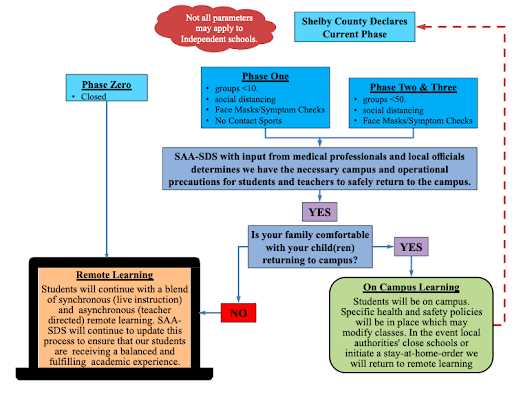 Summer Camps
Our detailed plans for summer camps will be released early next week. We plan to open Junior Day Camp and Day Camp on June 15. These camps will be initially open 8 AM to 4 PM, and only to our families, with limited space available. However, we are canceling all of our June specialty camps for PK-8th grade. We will revisit July specialty camps in June. While our Day Camps will look very different than in past summers, we are hard at work planning activities that will be fun for your child(ren) while maintaining the highest level of safety possible. We will provide detailed information about the precautions and safety protocols we have put in place so that you can make an informed decision about your child's camp participation. Look for further communication next week regarding new registration, refund procedures, and Upper School programs.
Next school year
We are committed to conducting on-campus learning as soon as we are allowed and it is safe. We anticipate that we will be able to be on campus, but interruptions due to 'flare-ups' are likely, and we may be forced to shift to remote learning for periods of time. We are preparing for both contingencies as well as the seamless transition between the two. We are also working to ensure students can continue remote learning even when the campus is open if your family health situation dictates. Below is an example of some of the parameters we are addressing:
How do we conduct symptom checks, testing, and monitoring of our community?
How do we create multiple smaller cohorts so students and staff are exposed to fewer people?
What are classroom capacities with social distancing in place?
What additional cleaning needs to be undertaken during the day? Each night?
How do we feed our community each day when we cannot gather in the dining hall?
What are our specific actions upon identifying an individual on our campus who is sick? How does that impact the way school operates?
How do we communicate effectively with our families and our community?
There are many other ideas we are discussing. As we develop answers to some of these questions, we will share them with our community.
Future Newsletters
Over the summer, we will reduce the frequency of these newsletters to bi-monthly. You can expect updates from me on the 1st and the 15th of each month. In those updates, I will share our latest plans for starting the fall school semester. Should you have any questions in between these updates, please feel free to contact me (
thood@saa-sds.org
).
I will finish this letter with a big thank-you to our teachers. In just two days back in March, they adapted and moved our learning environment online. They have maintained student learning and connectedness for a full ten weeks through the end of the school year. This is an incredible feat. Just look at the number of schools, particularly public schools, that gave up and conducted no synchronous, online learning. I cannot thank our teachers enough for their efforts over this last quarter. Nobody did it better! We also learned a great deal that will improve our education in the coming years. I know the teachers are already planning for next year, and they will be ready to once again inspire and engage your student(s).
I wish you and your family a safe, healthy, and relaxing summer.
Peace,

"But those who hope in the Lord will renew their strength. They will soar on wings like eagles; they will run and not grow weary, they will walk and not be faint."
---
April 23, 2020
Today has been a sad day as I have come to the conclusion that there is no series of events that would allow us to safely return to campus this academic year. Therefore, I am sharing my decision that we will continue remote learning through the end of this academic year. While we held out hope that we could regather as a community, our first priority must be for everyone's safety and well-being.
I am particularly heartbroken for the Class of 2020. I know of the many special events that lead up to graduation. We are committed to celebrating our graduates and their accomplishments in as joyful and loving a way as possible. I have overwhelmingly heard that our students would prefer a live graduation event. Therefore, we will postpone our graduation exercises until we can hold such a celebration. Our Deans will be communicating details about respective graduation recognition, as well as their plans to finish the school year.
Many of you have summer camp on your mind. Right now we do not know if we will be able to reopen campus for summer. We are looking at multiple scenarios for summer programming including on-campus activities and virtual camp programming options. Our goal is to offer the most robust programming possible given the current environment. Should we not be able to hold a camp for which you registered, we will make a full refund. As events develop, we will share our plans.
As we are bringing this year to a successful, although untraditional, close, we are already looking ahead to the 2020-2021 school year. Our community's health and well-being will, once again, be our top priority. While we do not yet know what constraints will be placed on our '20-'21 educational program, it is unlikely we will be able to return to the same environment we knew just two months ago. We are exploring multiple options for robust and engaging programs at all grade levels. I am so proud of the way our faculty, students, and parents have collaborated these past five weeks. This spirit of community has allowed us to accomplish more academically and remain better connected than many of our neighboring private and public schools. In the coming weeks, as we understand more about how the virus moves, we will share more details about how our students will continue learning and connecting in the fall.
We know that some of our families are being financially impacted by current events. The overwhelming majority of tuition is used to pay our outstanding faculty. I understand your concern about tuition in these uncertain times. We are committed to having your children continue their education at St. Agnes Academy-St. Dominic School. Should you have concerns about your ability to pay, please contact the Business Office. They can assist you with adjusting payment plans or applying for financial assistance.
St. Agnes Academy-St. Dominic School has lived through many difficult times in our 169-year history, and our school has endured. The first Dominican Sisters persevered despite several fires, yellow fever epidemics, the Depression and two World Wars. Our faith and our community have gotten us through all these challenges.
I want to end this message with one request of the community: if you need something, reach out. If you need prayers, reach out. If you need someone to talk to, reach out. If you are experiencing financial difficulties, reach out. We are in this together. With God's help, we will get through this too. You all are in my prayers.
Peace,

"But those who hope in the Lord will renew their strength. They will soar on wings like eagles; they will run and not grow weary, they will walk and not be faint."
---
April 16, 2020
Dear St. Agnes Academy-St. Dominic School Community,
I hope everyone had a wonderful Easter, and you were able to enjoy a break in the routine. Mary-Lee and I spent Saturday outside and were able to FaceTime with our kids in New York and Cincinnati on Easter. It made for a blessed Triduum!
We are aware of Governor Lee's announcement this week regarding public school closure for the remainder of the school year. At this time we are continuing to evaluate all the information that is available, and we will announce a decision regarding our plans within the next two weeks. Be assured the health and safety of all our community remains our number one priority.
Thank you so much for your thoughtful responses to the survey on our transition to remote learning. I was thankful for the volume of feedback we received. In total 537 members of our community, parents, students, and faculty, completed a survey. We are thoroughly reviewing all your feedback and making the necessary adjustments as we move forward. We understand that this new model of learning can be a challenging task, and we thank you for partnering with us in the process. We appreciate the way you and your children have embraced this new normal with such grace.
During this "safer at home" time, I continue to be inspired and uplifted by our community and the many ways our Stars and Suns are responding.
During the month of March, the St. Agnes Lower School theme was Herstory Month. The SAA Kindergarten class focused on the idea that "you are never too young to make a difference," and one of our KinderStars took this message to heart. McKenzie Dean sprung into action when she heard that nursing home residents could not have visitors right now because of the quarantine. McKenzie wanted to put a smile on their faces and let them know they were not alone. This little KinderStar made over 80 cards to share with the residents at the King's Daughters and Sons Home!
Our young scientist, John, taught his St. Dominic kindergarten classmates how to make silly putty today. John was the official, "Scientist of the Week" for his class, which is one of the favorite activities in Mrs. Mungle's Kindergarten classroom. Despite the distance, they were able to continue this tradition during their daily Zoom meeting time.
I am so grateful for our St. Agnes Academy-St. Dominic School family. Thank you for your continued support and prayers.
Peace,

"But those who hope in the Lord will renew their strength. They will soar on wings like eagles; they will run and not grow weary, they will walk and not be faint."
---
April 2, 2020
Dear St. Agnes Academy-St. Dominic School Community,
I hope this weekly message finds you all doing well. As I'm sure you already suspect, I am unable to share any good news about when we might return to campus. I will continue to communicate with you regularly on each Thursday. However, there will be no update next Thursday as we will be closed for Easter Break as scheduled. There will be no classes on April 9 –April 13. Please note, we continue to follow our published school calendar
While we have enjoyed many successes in our transition to remote learning, we recognize that this is a learning process for everyone, and we want to continue to grow and improve. In the next few days, you will receive a short survey, and your feedback will guide us as we expand on our strengths and work to make the experience even better for all involved. We will survey all parents and faculty as well as students in grades 3-12. The survey should take you less than 5 minutes to complete. Thank you in advance for your time and thoughtful input.
Finally, while we may all be a little fatigued at this point, I want to share some moments that made me smile this week. Despite social distancing causing us to miss some important events, our teachers and students are creatively making memories and sustaining connections.
When you are a four-year-old, it is especially hard to spend your days without your friends. The joy was evident on the faces of our JK students as they held their first Zoom gathering this week! There were lots of smiles and laughter, and the children can't wait to see their friends again next week.


Since our 8th graders couldn't be in Washington, D.C. this week as originally scheduled, their teachers decided to bring a little "D.C." to the 8th-grade geography classes. The students dressed up in red, white, and blue patriotic attire (and decor!) and showed off their contest entries during Zoom class time meetings. Everyone had a great time and appreciated the opportunity to have some fun during our stay-at-home protocol.


The Class of 2020 is marking their senior year with a few "new" SAA traditions. Our friends at Balfour arranged a drive-thru line to distribute graduation invitations to the seniors. Last weekend the class held "Zoom Prom 2020." Classmates dressed up in their best prom dresses and Zoomed the night away! This week Senior Voices were shared with the Upper School via our first "aZOOMbly." Thank you to our student leaders who stepped up to make these events happen. While they may be untraditional, the SAA spirit, strength and sisterhood are evident!
I continue to be uplifted by the energy and resilience of our students, the creativity of our teachers, and the positive, can-do attitude of our families. Your continued support and prayers are truly appreciated
As we prepare to enter Holy Week, I pray that you and your family are blessed in this Easter season.
Click here to access that original email with the photos.
Peace,

"But those who hope in the Lord will renew their strength. They will soar on wings like eagles; they will run and not grow weary, they will walk and not be faint."
---
Thursday, March 26, 2020
Dear St. Agnes Academy-St. Dominic School Community,
Well, this week didn't feel quite as crazy as last week, and the sun came out today. We continue to find the little joys in this new situation.
In accordance with Mayor Strickland's Safer-at-Home order, our campus is now completely closed to everyone. As we previously stated, due to rapidly changing events we cannot determine a definite date when campus will reopen. We are closely monitoring the situation and, as always, are making decisions that are in the best interests of our families and faculty. We will continue to share updates with you on a weekly basis.
I am in awe of the way every member of our community has worked together to make the best of this situation. Our teachers have worked tirelessly to not only create new delivery methods but also to creatively engage and connect with their students. Our school leaders continually work to maintain routines albeit in different forms. Our students are learning a new level of problem-solving as they embrace remote learning. I am also impressed with their openness to new ideas and their positive attitude. And we recognize the imposition this new model is for our parents. I am inspired by your adaptability and spirit. We are truly making this happen together. The one thing I am not, however, is 'surprised'. Our strong sense of community is a hallmark of an SAA-SDS education. All this is possible thanks to everyone's efforts, dedication and collaboration. Yes, there have been challenges along the way, but there have also been lots of small victories to celebrate! Despite our physical separation, our students are continuing to learn together, pray together and celebrate together.
In the Early Childhood Center, Ms. Jamie has been reading bedtime stories to her class each night. Ms. Jennifer has shared her backyard garden with the PK students, and Ms. Megan left a surprise for every student on their porch.
Dean Boccia gathered virtually with all the SAA Lower School students for their weekly Meet in the Middle assembly, and St. Dominic students began the week together with their Greet the Week Assembly via Zoom. Despite the distance, our Deans were able to provide consistency and love to their students.
K-8 Counselors are regularly tele-counseling with students via Zoom.
Our Upper School Chaplains are sharing daily prayers with the community. The Freshman Drama Class is creating Pep Talks to offer encouragement to everyone, and Student Government elections will continue, complete with campaign speeches via Zoom.
This is just a small sampling of the activities happening in our school. We will continue to highlight 'neat' things in the coming weeks. As we navigate through this difficult time, it is important that we continue to come together for each other. With that in mind, we launched Together We Take Out! Many members of our St. Agnes-St. Dominic family own restaurants and small businesses. We hope you will join us as we support these friends of SAA-SDS who have been our supporters.
You can click here to view the list
, and please share with your friends.
We are already thinking about how we will celebrate our return to school. It is our hope it will be this year, but if that is not possible we are already discussing ways to celebrate our students, especially those whose traditions or even graduations are being disrupted by the spread of this virus. We will keep you posted as we gain more clarity on what we can do as we move forward.
Peace,

"But those who hope in the Lord will renew their strength. They will soar on wings like eagles; they will run and not grow weary, they will walk and not be faint."
---
Thursday, March 19, 2020
Dear SAA-SDS Community,
The first two days of remote learning at St. Agnes Academy-St. Dominic School are complete, and I am inspired by the response of our entire community. From our administrators and IT team to our teachers to all our students and their families, everyone has exhibited an amazing effort, determination, and resilience. I am overwhelmed by the sense of joy that our teachers and students felt being able to reconnect and hear each other's voices. So much has been accomplished in a short period of time. Thank you for your trust and support as we begin this new venture.
At this time we anticipate campus will remain closed at least through Easter. Events are rapidly unfolding, and we cannot determine a definite date when campus will reopen. We are closely monitoring the situation and will share updates with you on a weekly basis.
Please know that the business of running the school continues. Our Leadership Team is communicating regularly, and the Deans are holding meetings with faculty via Zoom as we review, assess and evolve in our new environment of remote learning. We are always looking for ways to enhance the learning opportunities and provide support for our teachers, students, and families.
Our chaplain, Fr. Augie, has graciously offered to continue celebrating Mass for our school community. We will stream Mass from our Chapel on Friday mornings at 9:00 a.m. beginning this Friday, March 20. You can watch the live stream on our Facebook page @saasdsmemphis. We are blessed by this opportunity to share in the Liturgy.
We appreciate that this is a time of uncertainty for everyone. Although we may physically be at a distance, we remain united as a community of faith, and we are called to lift each other up. Let us look for ways to support our neighbor and extend Christ's love. I ask that you continue to join with all of us in prayer as we ask for God's grace and guidance.
Peace,

"But those who hope in the Lord will renew their strength. They will soar on wings like eagles; they will run and not grow weary, they will walk and not be faint."
---
March 13, 2020
Dear St. Agnes Academy-St. Dominic School Community,
After very careful consideration and in support of our community, public health and wellness, St. Agnes Academy-St. Dominic School campus will be closed effective Monday, March 16. We will transition to virtual learning beginning Wednesday, March 18. Due to the dynamic nature of this pandemic, we will re-evaluate school status on a weekly basis. Every Thursday at noon we will share information on our plans for the following week via email.
Modifying our instructional delivery model is not a decision that we take lightly. We understand that a change in our school schedule causes significant disruptions in the lives of our students, families, and faculty. The safety of everyone in our community remains our number one priority. These are unprecedented circumstances, and we believe we all have a stake in stopping the spread of the virus. This is a time for our community to come together and support each other.
Our teachers will meet Monday and Tuesday to finalize details for virtual learning. Our educational objective remains to provide an educational experience for every student from PK2-12th grade that engages and informs our students. Our plan during this time will ensure that each student will be prepared to progress to the next grade level at the end of the school year. You will receive an email from your Dean with specific details regarding instruction specific to each division and grade.
Access to campus will be limited to essential personnel only. At this time we are suspending all athletic and extra-curricular activities until further notice. We are working on a plan that will allow students to come to campus in the next week to pick up any educational materials they may need. Additional details will be provided in the coming days.
As a reminder, the school has created a webpage that is intended to provide the SAA-SDS campus community with news, helpful information and resources. We will update this page frequently as additional information becomes available.
The days ahead of us represent uncharted territory in many aspects. Our fantastic team of educators will continue to work to ensure your children are loved, connected and educated. Over the coming weeks, we will all have the opportunity to live out the Four Pillars of Study, Prayer, Community, and Service as we work together for the welfare of all. We are grateful for your continued partnership as we navigate this challenging situation, and we commit to doing all we can to keep St. Agnes Academy-St. Dominic School a safe and positive community.
Peace,

"But those who hope in the Lord will renew their strength. They will soar on wings like eagles; they will run and not grow weary, they will walk and not be faint."
---
March 12, 2020
Dear St. Agnes Academy – St. Dominic School Community.
In light of the rapidly changing circumstances surrounding the Coronavirus (COVID-19), we are writing to update you on our school plans. The St. Agnes Academy-St. Dominic School Leadership Team is meeting early Friday morning to evaluate the situation, and we will make a decision regarding a possible school closure at that time. We will notify you via email Friday morning with an update to our plans.
Additionally, the school has created a webpage that is intended to provide the SAA-SDS campus community with helpful information, resources and updates on COVID-19. We will continue to update this page frequently as additional information becomes available.
www.saa-sds.org/coronavirus
.
Please be assured our team has been working diligently to establish policies and plans to continue virtual learning for all our students in case of a school closure. Thank you for your patience and support as we work together for the health, safety and well being of everyone in our community.
Peace,

Tom Hood
President
---
March 6, 2020
Dear St. Agnes Academy – St. Dominic School Community.
I know you are being inundated with information about the Coronavirus. You are also hopefully focused on Spring Break for your family. I do ask that you take the time to read this letter as it has specific St. Agnes Academy - St. Dominic School actions and responses related to this virus. We continue to monitor CDC guidance and communicate with other schools about the best way to adapt to the COVID-19. This is not intended to alarm you but to talk frankly about this virus and our plans to minimize its effect on our community.
Having said that, we fully expect the virus will make its way to Memphis. As you know it is now in the Nashville area. We cannot prevent it from spreading to Memphis nor likely to our community. We can, however, take actions individually and collectively to minimize the effects of the virus on our fellow community members. I am asking you to show your love for your fellow families by being vigilant and responsible. Our responsible actions would include:
Personal Hygiene
Coronaviruses spread from person to person in much the same way the flu and other respiratory viruses spread. We ask that you help us keep our community safe by continuing to maintain healthy habits as we do during any cold and flu season. These are the same steps that we should be taking daily. Steps you can take to prevent the spread of flu and the common cold will also help prevent coronavirus:
• Wash hands often with soap and water
• If soap and water are not available, use a hand sanitizer that is at least 60% alcohol
• Avoid touching your eyes, nose, or mouth
• Avoid contact with people who are sick
• Stay home while you are sick
• Avoid close contact with others
• Cover your mouth/nose with a tissue or sleeve when coughing or sneezing
Campus Precautions
We have instructed our cleaning company to conduct a detailed cleaning of our campus over Spring break. We have also instituted our flu season daily cleaning procedures which include actions such as wiping down all door handles in the middle of the day, and wiping desks after each class. We are increasing the use of disinfectant at our lunch tables after each meal and modifying our lunch service to minimize the number of hands that could touch the food line. We will also use 'one-use' prepackaged silverware for the foreseeable future. We are looking at other areas on campus to see if we can enhance our processes for those spaces as well. We will continue these modified activities for the foreseeable future.
Travel
We know many families will be traveling over the next week for Spring Break. We encourage you to follow the CDC guidelines on travel. As you are aware, information regarding the spread of COVID-19 is changing daily, so please continue to check the CDC website regularly. Many countries have enforced restrictions and quarantines that could directly affect you. I encourage you to stay abreast of policies in the areas in which you might be traveling.
Self-Quarantine
Any faculty, staff, students or parents who are traveling to/from
CDC Level 2 and Level 3 areas
, must self-quarantine and not return to school until a 14 day period has elapsed following their return to the United States. They must also obtain medical clearance before returning to campus. Please contact your personal physician regarding specific instructions for self-quarantine. Should your student require quarantine post-travel, be assured we will work with you to provide remote learning.
We cannot begin to stress how important it is to keep your child home if they are sick. This is the way we show our care for each other. In the event that your child is sick and might possibly miss multiple days from school, they will not be penalized for their absence. The Deans will be sending out detailed information on the updated absentee policy as it pertains to the different grade levels on our campus.
Plans for Possible School Disruption
In the event campus must close, our team has been working to ensure learning will continue. Policies and plans are in development to continue virtual learning for all our students. These plans are dependent upon Internet access. If access to the Internet will be a problem for your family please advise your Dean. Also if you are the parents of younger children we recommend you think about how you will care for your children should we close the school physical plant.
School Contacts for Reporting Illness or Exposure
Sandra Miller, School Nurse – smiller@saa-sds.org
Jenny Howell, Early Childhood Director – jhowell@saa-sds.org
Chris Burke, Dean, St. Dominic School – cburke@saa-sds.org
Kathy Boccia, Dean, St. Agnes Lower School – kboccia@saa-sds.org
Joy Maness, Dean, St. Agnes Upper School – jmaness@saa-sds.org
This is an evolving situation. We are investing considerable time and resources to ensure that we keep our community as safe as possible while continuing learning with our students. I am reminded of our thematic bible verse for this year from Isaiah 40:31 "But those who hope in the Lord will renew their strength. They will soar on wings like eagles; they will run and not grow weary, they will walk and not be faint." Let us show our love for each other by acting in ways that serve the welfare of our community. We will continue to monitor and prepare for this virus.
The school has created a webpage that is intended to provide the SAA-SDS campus community with helpful information, resources and updates on COVID-19. We will update this page frequently as additional information becomes available.
www.saa-sds.org/coronavirus
As always, if you have any questions, please feel free to contact me or any member of the administration.
We wish you a restful and enjoyable Spring Break.
Peace,

Tom Hood
President
---
Campus Directory - Important Numbers
Prayer for Week of May 18, 2020
Message From
Bishop David for the Feast of St. Catherine of Siena
Today is the feast of St Catherine of Siena. She is the patron Saint of nurses & those who are ill. Today we pray especially for those who are ill during this time of pandemic & all those who care for them. Our thought for the day is from St. Catherine of Siena, a doctor of the Church, who lived a life of service to God and the poor and had a major influence on the Church. May she inspire us to serve others and God with greater commitment. St. Catherine, pray for us. Happy Feast Day!
Live and Recorded Masses from St. Peter Catholic Church, Memphis
ACADEMIC RESOURCES
COMMUNITY RESOURCES
SPIRITUAL RESOURCES