Back
Kathi Davidson, PK Teacher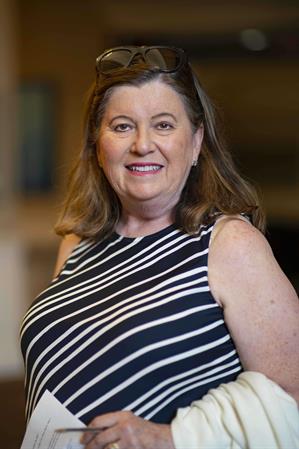 Why did you want to become a teacher?
The joy of working with others is great! I love to watch people when they learn something new, especially when they thought they could not do it before, and I get to smile everyday at work!
What do you enjoy about teaching Pre-Kindergarten
The children are at such a great age. They are excited about learning and want to try new things. They are so proud of their work. I love that I get to see the look in a child's eye when he or she understands or sees something for the first time.
I also enjoy working with the parents and guiding them through the Pre-K experience. We work together as a team to make each child the best person he or she can be. The parents are a key to bringing out the best in each child. I like to remind the parents to slow down and enjoy their child. Life is not a race, so enjoy it!
What do you hope to accomplish as an educator.
I want all my students to believe in themselves and know that I believe in them. I always want each child to feel like he or she is my favorite and can do anything.
So many times we are told we can't, but I want my students to have the confidence to try new things. Always remember that it is not a mistake, but a learning process. It is only a mistake if you continue to do it.
What makes the St. Agnes-St. Dominic Early Childhood experience unique?
I love teaching in a Catholic School because God is part of everything. I think the way we include the whole family in our school is also very important. It is such a gift to be on this campus every day and witness the deep sense of family that permeates our children, faculty and parents. My children love it when they see their siblings, cousins or a friend they know in the hallway and they can say hi. They really LOVE it when a big kid they may not even know says hi to them or gives them a high five.
In addition to teaching here, you are also the parent of a graduate, Erin '05. How do you think your daughter benefited from her experience here?
Erin is a Clinical Pharmacist at the University of Texas Southwestern Medical Center.
The Catholic education she received provided her with a wonderful foundation. She learned not only how to help herself, but also how important it is to help others.
St Agnes opened so many different avenues for my daughter. She was extremely well prepared for college and graduate school. St Agnes instilled in her the confidence that she can achieve anything that she puts her mind to.