Back
SAA Teams Wins First Place at Canstruction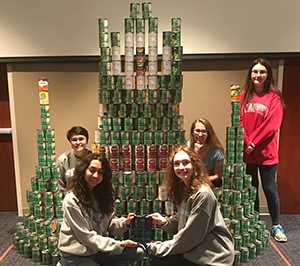 The St. Agnes Academy Canstruction team won first place in the Structural Ingenuity category at the 2018 Canstruction competition held at the University of Memphis. The Structural Ingenuity Award, which is based on innovative structural design as shown through complexity and stability, is the Civil Engineering award for the competition.
The St. Agnes team competed against students from 17 area high schools. In the competition teams are charged with building creative theme designs with non-perishable cans of food, benefiting the Mid-South Food Bank. The students began brainstorming the design of the structure in the fall and selected the type of cans to be used in the build. They collected 450 cans, or 422 pounds of food, which are being donated to the Mid-South Food Bank.
"The girls planned the design and then made alterations from the paper design to the actual build," said David Tran, Upper School Faculty Advisor for the team. "Through trial and error, the girls determined the best way to support and balance all the cans in the structure, accounting for the slight variations in the cans. They learned how to build a structure within a budget. They also learned how to balance forces to maintain structural integrity while at the same time planning for environmental factors, such as wind, that could compromise the structure," said Mr. Tran.
The goal of the Memphis Canstruction, Jr. competition is to increase high school students' understanding of civil engineering and the role of the civil engineer in society, as well as to raise awareness about hunger in the Mid-South.