Back
COVID-19 Resources and Campus Updates
President Hood's End of the Year Correspondence with
Plans for the Beginning of the 2021-22 School Year
"Be strong and courageous. Do not be afraid or terrified because of them, for the Lord your God goes with you; he will never leave you nor forsake you." -Deuteronomy 31:16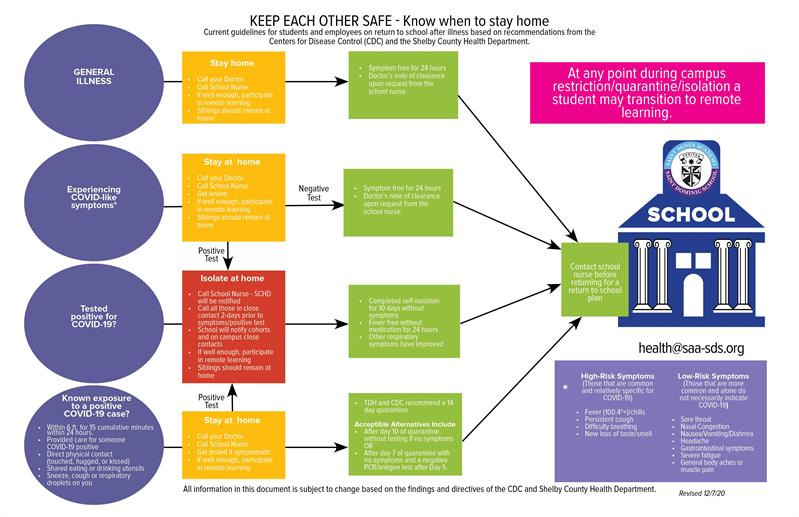 OUR 2020-21 GUIDE TO REOPENING
Contact us at communications@saa-sds.org with questions or concerns not addressed in our reopening plans.
SAA-SDS Athletics - Return to Play Guidelines
As we move forward, living alongside COVID-19 will require flexibility, innovation, and understanding. We must be prepared for a world where classes are held in-person, remotely, and/or both simultaneously and fluidly as the Memphis area infection levels dictate.
We have designed a framework that manages our students' and teachers' contact with others as dictated by the COVID-19 threat level. Students will be kept in cohorts allowing for varying degrees of freedom and contact with other students and faculty through four different phases.
We do plan on being able to provide continuous education onsite for our Early Childhood students to accommodate our families.
There are simple things you can do to help keep yourself and others healthy.
• Wash your hands often with soap and water for at least 20 seconds, especially after blowing your nose, coughing, or sneezing; going to the bathroom; and before eating or preparing food.
• Avoid touching your eyes, nose, and mouth with unwashed hands.
• Stay home when you are sick.
• Cover your cough or sneeze with a tissue, then throw the tissue in the trash.
President Hood's Correspondence with School Community RE: COVID-19